We have a commercial alliance with mexican and foreign manufacturers and distributors of products of the highest quality in painting and fires. Here we mention some:
. Road marking and thermoplastic paints
. Anticorrosive paints and coatings
. Seals and additives for restoration of pavements and concrete
. Anti-slip systems
. Waterproofing and crystallization
. Insulators and thermal paints
. Paints and coatings for floors
. Anti-graffiti paints
. Marine paints
. Flame retardant paints, fire barriers
Floors, rugs, bollards and advisory
.
The floor and carpet line "Floor System" consist of recycled products made 100% tire-based. With a really low cost, they have the advantage of being totally waterproof, anti-skid, adherent and antibacterial. They are easy to install and require minimal maintenance. They are customizable products that reduce the force of impact and have long duration.
We also offer a line of bollards manufactured in the country. They are characterized by having different designs and materials to cover any type of needs. They are ecological since they are made with 100% recycled materials or with materials that can be entirely recycled.
They are manufactured with high quality materials and high durability, with aesthetic and unique designs that can look good in any space. In case they are damaged they can be removed and replaced easily. They are made of 100% recycled materials. They are waterproof, require minimal maintenance and are long-lasting.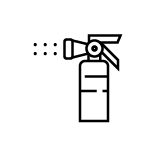 We offer totally autonomous fire systems, designed to be operated by a single person, capable of extinguishing any kind of fire in a matter of seconds. In addition, they protect people avoiding burns, poisoning, loss of visibility or damage by existing chemicals in other products. The maintenance they require is minimal and they have a 30-year guarantee. They are highly efficient with the use of water since they contain FireAde 2000 ecological foam.
FireAde 2000 is a double extinguishing agent since it combines wetting agents and synthetic foam. It does not expire, it´s not corrosive, it´s not toxic and it fights all types of fire (A, B, C, D, K). It can trap flammable vapors by preventing ignition or re-ignition.
These products have the advantages that do not require the construction of hydraulic facilities, they are autonomous equipment that does not need electric power to operate and are easy to install and operate. They seek to reduce the cost of investment compared to a network of hydrants through the sale or rental of equipment.
Next, we mention the product line:
.  Mobile equipment
.  Wall-fixed equipment
.  Fire extinguishers for domestic and industrial use
.  Automatic spraying spheres for industrial use
.  Sprinkler crowns
.  Fire retardant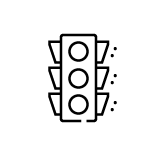 .  Reflectives road studs, speed bumps
.  Road and street luminaires
.  LED Message Boards
.  Vertical traffic signs
.  Photoluminescent signs
.  Traffic lights
.  Arrow boards
.  Plastic and concrete barriers
.  Speed humps, buoys, road studs, traffic cones, etc.